These two locomotives are famous for their roles in the Great Train Chase during the American Civil War. A band of Union soldiers under the command of James J. Andrews captured the General at Camp McDonald near Marietta, GA, on April 12, 1862. Their plan was to travel north on the railroad, destroying track, bridges, and tunnels as they went. They were pursued by the crew of the General, led by conductor William Fuller, on foot, by hand car, and aboard three locomotives: the Yonah, the William R. Smith, and the Texas. The pursuers had to change vehicles several times because Andrews' party had stopped to remove rails from the track at several points. However, they were unable to destroy two bridges and a tunnel on their route. The General ran out of water a few miles north of Ringgold, GA, and Andrews' party abandoned it. That's where the Texas caught up with the stolen engine.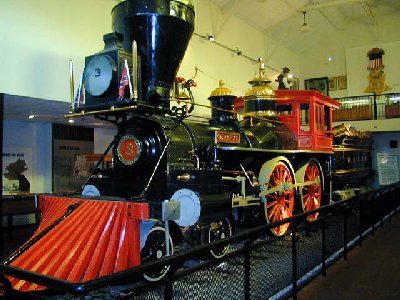 W&ARR 3 is now housed at the Southern Museum of Civil War and Locomotive History in Kennesaw, GA, north of Atlanta. When these photos were taken, the locomotive was housed in a rather small building, making it difficult to take good photographs. The museum is undergoing expansion and is scheduled to reopen in March, 2003. The General was built by Rogers in 1855.
Notice that the locomotive has both an injector and a cross head water pump on the right side. There is no injector on the left side of the locomotive.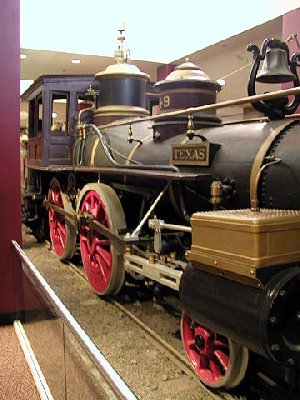 W&ARR 49 is housed at the Cyclorama near the Atlanta Zoo in Grant Park. The locomotive was built by Danforth, Cooke and Company of NJ in 1856 at a cost of $9,050. It was shipped to Savannah by water, then to Atlanta by rail, and put to work on a regular freight run between Atlanta and Dalton, GA. The engineer was 28 year old Peter James Bracken and the fireman was 15 year old Henry P. Haney. The locomotive was headed south with its train when the General passed it on April 12, 1862. When Fuller, conductor of the General, caught up with the Texas on foot, the train was backed to a siding where its cars were uncoupled. Then it ran backward in pursuit of the General until it caught up with the abandoned locomotive north of Ringgold, GA.
The Texas has 60" drivers, and its cylinder is 15" in diameter with a 22" stroke. was converted to coal in the 1870s and its Radly & Hunter stack was replaced by a diamond stack. The locomotive was renumbered 12 and renamed "Cincinnati" about 1880. When the nashville, Chattanooga and St. Louis Railway took over the Western & Atlantic Railroad, the engine was renumbered 212 and kept the name "Cincinnati". It was taken out of service in 1903.